A few things on my plate in the coming weeks.
Fish Wielder is kind of like Lord of the Rings, set in Narnia, if it was written by the guys who made Monty Python and the Holy Grail while they were listening to the music of They Might Be Giants.

In ancient times, the Dark Lord Mauron cooked the most powerful magic chocolate dessert ever made, the Pudding of Power. One thousand and two years later, the evil leader of the Bad Religion, the Heartless One, is trying to recover the lost pudding in order to enslave the peoples of Grome. Only the depressed barbarian warrior Thoral Might Fist and his best friend, Brad the talking Koi fish, have a chance to save the world of Grome from destruction, but that's going to take a ridiculous amount of magic and mayhem. Thus begins the epically silly epic fantasy of epic proportions, Fish Wielder--book one of the Fish Wielder Trilogy.
Magic didn't just find Luke Caulfield. It chased him down, bludgeoned him, and has been dogging him ever since. Some lessons are harder than others, but Luke embraces danger, upping the ante to give it one better. An enforcer for the Coven, a large, established group of witches, his latest assignment is playing bodyguard to the daughter of Coven leaders.
Abigail Ruskin is chaperoning a spoiled twelve-year-old from New York to her parents' home in Utah Territory when Luke gets on their stagecoach in Colorado. A powerful witch herself, Abigail senses Luke's magic, but has no idea what he's doing on her stagecoach. Stuck between the petulant child and Luke's raw sexual energy, Abigail can't wait for the trip to end. Unpleasant truths surface about the child.
While Abigail's struggling with those, wraiths, wolves, and dark mages launch an attack. Luke's so attracted to Abigail, she's almost all he can think about, but he's leery too. The child is just plain evil. Is Abigail in league with her? It might explain the odd attack that took out their driver and one of their horses. In over his head, he summons enforcer backup. Will they help him save the woman he's falling in love with, or demand her immediate execution?
Gunhild is a private in the Royal Army. She's headstrong and reckless, but she's also the best troll hunter in the country, and when a troll gets away with a national treasure, she's the only person with any chance of getting it back.

Kirabo was on his way home to Aberash after a fulfilled research mission, but he managed to enter the wrong coordinates into his spaceship. Now he and his PA robot are stranded on a far-off planet, and they don't have enough fuel to get back home.

As genres collide on Troll Island, Earth, the troll hunter and the space explorer have to overcome their differences and work together if they want to survive this fairytale.
Jewelry designer Kat Ramos has come to Banshee Creek to break the famous Hagen House curse and, in order to do that, she must marry Liam Hagen. A vengeful ghost with a deadly history isn't part of the deal, and neither is love. Will Kat be able to handle both, or will the mystery of the cursed Hagen House remain unsolved?
And, of course...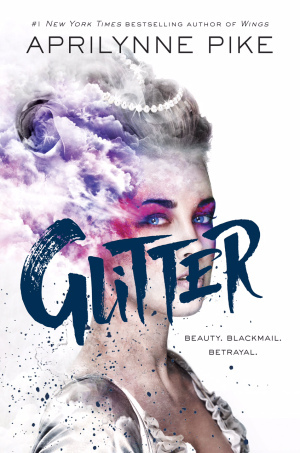 Outside the palace of Versailles, it's modern day. Inside, the people dress, eat, and act like it's the eighteenth century—with the added bonus of technology to make court life lavish, privileged, and frivolous. The palace has every indulgence, but for one pretty young thing, it's about to become a very beautiful prison.

When Danica witnesses an act of murder by the young king, her mother makes a cruel power play . . . blackmailing the king into making Dani his queen. When she turns eighteen, Dani will marry the most ruthless and dangerous man of the court. She has six months to escape her terrifying destiny. Six months to raise enough money to disappear into the real world beyond the palace gates.

Her ticket out? Glitter. A drug so powerful that a tiny pinch mixed into a pot of rouge or lip gloss can make the wearer hopelessly addicted. Addicted to a drug Dani can sell for more money than she ever dreamed.

But in Versailles, secrets are impossible to keep. And the most dangerous secret—falling for a drug dealer outside the palace walls—is one risk she has to take.
Don't judge me.