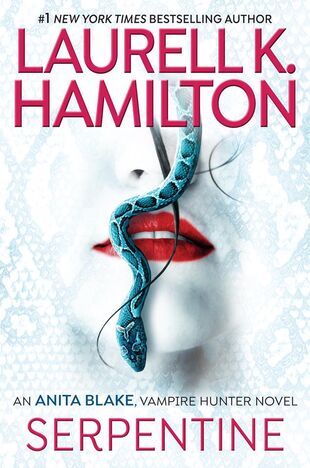 Crapter 20:
Four pages of wangst. 161 pages.
Crapter 21:
Anita observes that the dockhand, Roberto, looks more like a Chad or a Ken to go with a Malibu Barbie; Hispanics come in more colors than people realize. (The More You Know)
(Since LKH literally can't think of shit else, she drops a ridiculous contrivance out of the sky to try and kickstart things.)
Micah gets a call from Christy, the wife of one of the snake guys in the pics, that he's pissy drunk in some bar and trying not to shift (Raise your hand if this makes no fucking sense to you, either). Even Nate remarks on how stupid this is (but not so stupid it didn't get written into the story, anyway). Plus Christy's pregnant and on bed rest, but called everyone else who could get to him then remembered they were all arriving today, so…
Micah adds that Andy- guess that's his name- was drinking as a form of self-medicating; a good buzz can help keep them from shifting. Doesn't work for any other shifters, but seems to help these guys; just that Andy got shit-faced. He's gone from functional alcoholic to full blown. And in case this wasn't contrived enough, the snakes they shift into are poisonous yet not indigenous to the island, so there's no anti-venom handy. (Why these people don't have their own ready supply, I've no idea)
A few goodbye kisses and Anita, Micah, Bernardo, Nicky and Bram are off to the rescue. 166 pages.
Crapter 22:
Barely noon and the bar's already full, which somehow surprises Anita. She takes a moment to remind everyone that JC's marks make her poison-proof, so she'll do the heavy lifting if need be. Bernardo doesn't like snakes, so- whatever.
They get Andy to stagger out and into the SUV without incident; Anita sitting next to him. Halfway into the ride Andy snaps up, dazed & confused, wanting out and reaching for the door. Bram pins one of his arms on one side and Anita gets the other- next thing you know it's like a bunch of snake cans from Let's Make a Deal! Even Anita gets freaked out!
The snakes seem independent of each other, each focusing on different targets. Anita punches Andy out- Nicky observes that if he'd been human she'd have broken his neck- and the snakes retreated back into his body.
They dump him onto the boat; Bernardo remarks that the guy they all just met has burned his bridges with them. Too bad Christy can't see Andy for what he is. 173 pages.
Crapter 23:
They pass Andy off to his pissed off cousins; Nate texts he's already lounging by the pool at the hotel, but they can tell he's upset about work interrupting their vacation. Funny how Christy reached out to friends & family and they all left her hanging about Andy. Rather take the risk of all getting exposed than keep going after him (again, am I the only one here?). Bernardo thinks they shouldn't keep running off to save people from themselves all the time and concentrate more on their own happiness. Maybe; let's go talk to Nate. 178 pages.
Crapter 24:
Everyone's at the pool, including Tedward- who's been working out and now has rock-hard abs. Micah doesn't think most of the dancers at GP have abs like that. *oy vey*
Tedward and some guy named Paul dive into the pool and begin swimming. Rodina snaps that Anita, Donna and all left the men unsupervised for too long, so now they're having a swim meet against the young bucks. Tedward pops out of the pool and quips it was either this or a Fight Club. Besides, swimming's one the few things that negates a Were's strength & speed (The More You Know!). Anita notices that Tedward's accent keeps slipping in and out, which isn't like him.
On the other side, Nathaniel & Ru emerge in speedos, surrounded by a bevy of beauties. They hit the water, to the delight of many, and race to the other end where a tall, lean man with the skin color of black coffee- so dark it was hard to see the muscle tone, but it was there (sic). Meet Lt. Col. Muhamad Franklin, aka Frankie- one of Tedward's oldest friends. He declares Nate the winner; the boys emerge and are immediately claimed by bouncing bikinis.
Rodina points out that Ru's good at playing off of whomever he's with, but he's doing it too well with Nate, so someone's gotta claim him soon or she'll be forced to do it. Micah ain't gonna do it; Anita's stubborn, but it's either that or incest squick.
So Anita goes over, and intuits that Nate's upped his flirting because he's mad at them for leaving him. Anita's not sure what to do; Micah steps up and sticks his tongue down Nate's throat. The bikinis don't know how to respond to that.
Rodina tells Ru to kiss Anita; he says she has to want him to. The bikinis are still clinging onto him; they're here for their friend's wedding, too.
Pffft- this is taking too long: basically, a pissing contest between Anita & her menz vs the other wedding party as to who's gonna kiss who, blahblahblah. Anita tongues down Ru, then almost forces the bikini clinging to him who's not into girls into a lezbean kiss, which pisses her off. Anita's Ardeur starts to rise and Micah has to step in to calm things down. 196 pages.